Namibia - a glider pilot's paradise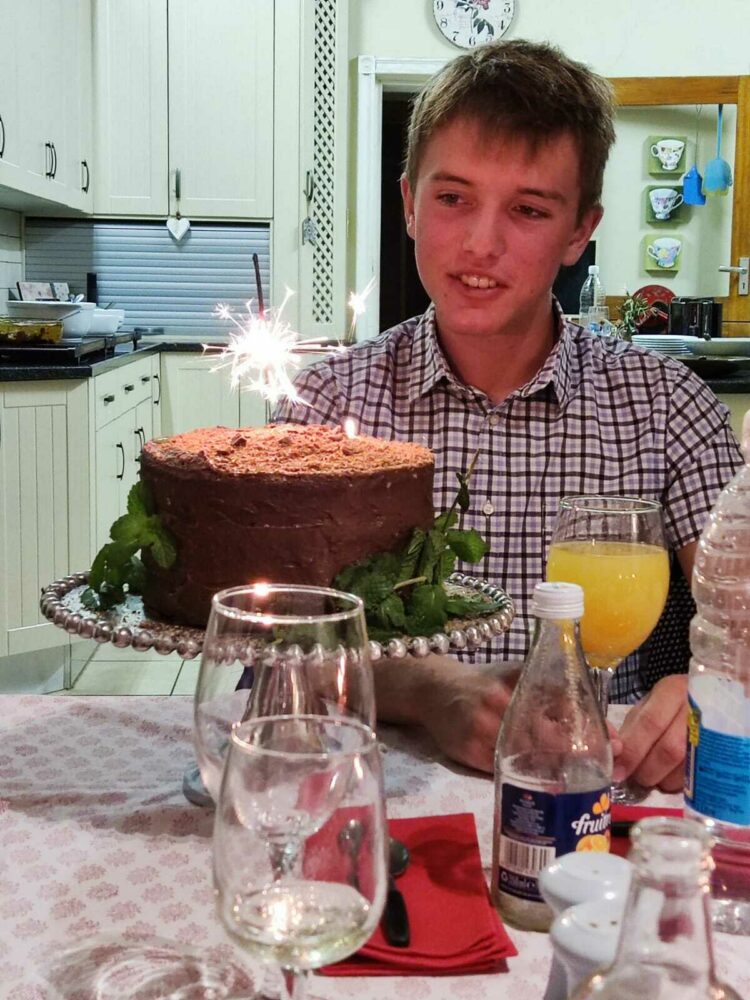 Johannes Stöckl reports on his very memorable stay at Pokweni.
"Namibia - every glider pilot's dream - strong thermals, convergences to the horizon and long final approaches with landings at sunset. Ever since I started gliding, my dream has been to fly in Namibia. I would never have dared to dream that I was given the opportunity to do so just a year after I received my licence.
On August 28, 2022, I received a call from an unknown number. At first I was skeptical about even answering because it's probably just one of those dozens of surveys peeople call about... I did answer the phone however and a voice said, "Hi Johannes, I would like to invite you to Namibia for two weeks to fly with me in a two-seater!" So I got the opportunity, because of my placement in sis.at, to fly in Namibia with Georg Kirchner. This was probably the most perfect day of my year. From then on it was clear to me that the only option was to get a leave of absence from school for the first two weeks of November and do the rest of the organising to get everything wrapped up and ready to go.
Once everything was arranged, it was finally time for my big adventure! We flew from Vienna via Frankfurt to Windhoek on October 29th and hopped in an arranged taxi, which drove us almost 200 km south along the typical gravel roads to Pokweni. Shortly after our arrival in Namibia, while heading south, we were greeted by a number of giraffes, springboks and oryx antelopes. Experiencing the wilderness of Africa up close. As soon as we arrived at Pokweni, I felt at home. Beautiful scenery, good food, a swimming pool and lots of nice people."
We are so thankful for our guests and glad that we can still keep on providing them with the best possible service and most wonderful experiences even after more than 20 years!
We're looking forward to seeing old and new faces during the 2023/24 season.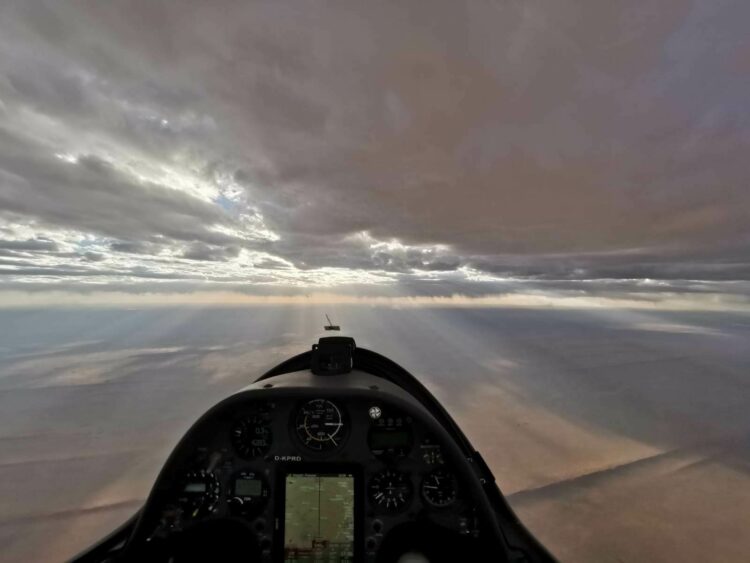 December started off good, although a number of cold fronts from the Cape made longer phases whereby flights were only possible with brakes set, (in a sort of way!). Quite clear and mostly lower. A number of super days popped out in December, notably on the 14th there were seven flights over 1000km. After Christmas it turned somewhat wet (prior to the season's start it rained which pleased the local farmers so much because they had the chance to sell more lambs before Christmas). The dampness called for some cloud coverage during the day, therefore a few days of 'reflection' were planned.

A clear phase developed after a few days and towards season's end a few marvellous days came along, unfortuately these days could only be utilised by a few pilots as most of the aircraft had already been packed.
New in this season (resp. made possible again), was access to the northern airspace (up to FL 145). This enables flights beyond the normal glider area, especially flights on days where the southern area was clear. A vector was established up to 350km to the north. Some risked flying around Windhoek, albeit a rather tough assignment due to the max FL145, mountains in the west which lowered the reserves plus the far and few possibilities for emergency landings. All in all, the additional airspace was welcomed by all the pilots.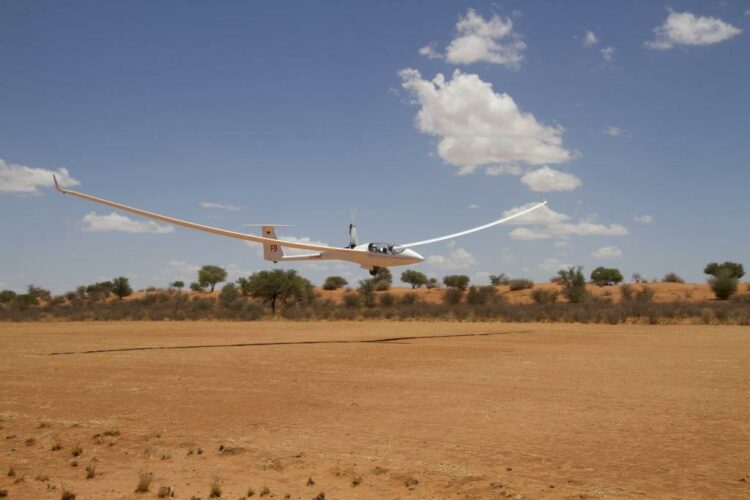 Generally speaking, after a time more days were flown NE resp. N. Very few days westwards this year were possible. A few very good angular build-ups quite often but not typical developed a late convergent situation which could be flown only by whoever was in the vicinity. Forever there were fantastic views of mountainous terrain resp.the desert and lively flights with high average speeds.
Exceptional flights were achieved by Alexander Müller with over 1300km. Two Danish crews set a record this year (total of 4 Danish records): three were achieved by Klaus Hagensen and Steffen Ellberg, one record was flown by Claus Elmeros and Klaus Juhl. With 492 flights and 365.387km, regardless of the blue thermic phases the season proved satisfactory. All this may be thanked from the attentive and disciplinary attitude of the pilots.
The Airfield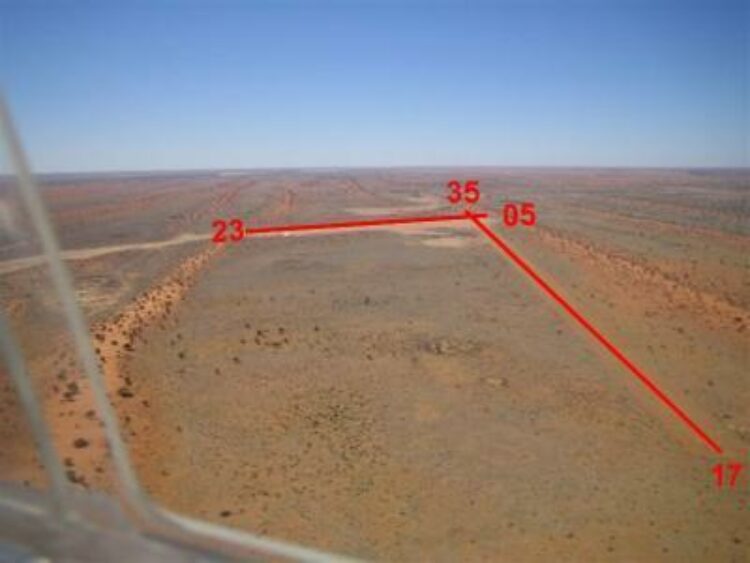 The airfield constitutes an almost 2.7km long and 60m wide main runway (direction: 35/17) and a clay pan almost 950m long and 500-600m wide (direction: 23/05). In an extended direction of the main runway (35) is an emergency runway of another 1000 x 50m. This enables an emergency landing straight ahead in case of engine failure.
Pokweni´s elevation ist 1 250m above sea level with coordinates S:23 39' 00" E:17 43' 48". Take-off normally takes place from runway 35. With strong wind from direction 05/23, it is possible for single seaters to take off from the pan.
Landing takes place on any runway, but is mostly done on 05 with roll-out towards the shadenets.
Also, when the pan is flooded after a thunderstorm, flying on Pokweni is no problem. Take-off and landing then takes place on the main runway 35/17. The gliders are towed to the main runway via a short by-pass.
Shade nets for protection against the Namibian sun
For more than 10 years already Pokweni has had shadenets available for aircraft to park under. This also makes it more convenient for flight preparation. The shaded area blocks out about 60% of solar radiation. The planes and pilots alike are protected against the merciless Namibian sun and the ultra-violet radiation.
In autumn 2018 the shade nets have been enlarged for another 60 m, so now each glider has a place under the net. All in all it comprises 330 m.

Airspace
There were some years where airspace structures changed very much, but today the situation has been established. Most flights take place in the Gliding area up to FL 195. Inside there are some TMZ where you need a transponder and listening Radio Windhoek is obliged.
A new possibility is to leave the Gliding Area to the North up to FL 145 (Attention!). If you take care concerning the altitude very nice long distance flights are possible. Flying into Botswana is allowed till 2 ½ ° East of the Namibian border and also the northern part of South Africa till Lendlpas can be used.
You can find the exact items on the website of the SSN (Soaring Society of Namibia). There you get all important information about flying in Namibia and the versions of the current airspace can be uploaded.